New and Noteworthy
From PartKeepr Wiki
Changes from 0.1.7 to HEAD
GUI changes
Part Filter Additions
The Part Filter Panel now lets you filter by distributor and manufacturer
You can now remove the filter criteria for storage location, distributor and manufacturer directly now; previously, you had to click "Reset" to remove an active storage location filter
You can filter by the part create date
You can filter for all parts where no stock removals have taken place; this is useful to find parts you have never used and which you might remove from your inventory
The part filter columns now wrap to aid with smaller display sizes
Advanced Part Picker for Projects
A new part picker has been implemented, which has basically the same features as the regular grid, including the part filter panel.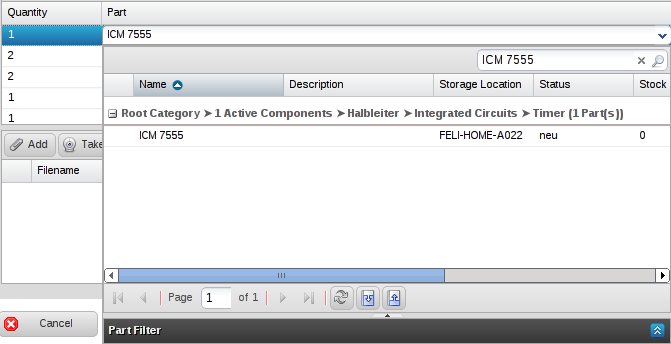 Advanced Duplicate
The "Create from Template" button is now called "Duplicate" and supports duplicating of all part properties, including parameters, manufacturers, distributors and attachments.
Upload Dialog
The upload dialog now explains where the upload limit comes from and how to configure PHP to allow bigger uploads
Technical changes
Part Grid Performance Improvements
Several queries have been optimized, so that the grid should load now much faster on slower systems
More cache options
PartKeepr supports now xcache and memcache and you can now configure them. By default, APC is used (if available).
Individual JS Files for the frontend
The frontend now supports individual JS files, instead of a large JS file. This is useful for debugging and can be enabled with the following configuration:
Configuration::setOption("partkeepr.frontend.debug_all", true);